Some of the Elaine Bacon Literacy Program's fun activities!
Japanese Language and Culture with Miyoko
Wreath-making with Jan
Thanksgiving Meal
Indonesia Presentation with Puti
Pumpkin-carving/ Halloween
Sri Lanka Cuisine with Janaka and Wathsala
Parade of the Nations 2022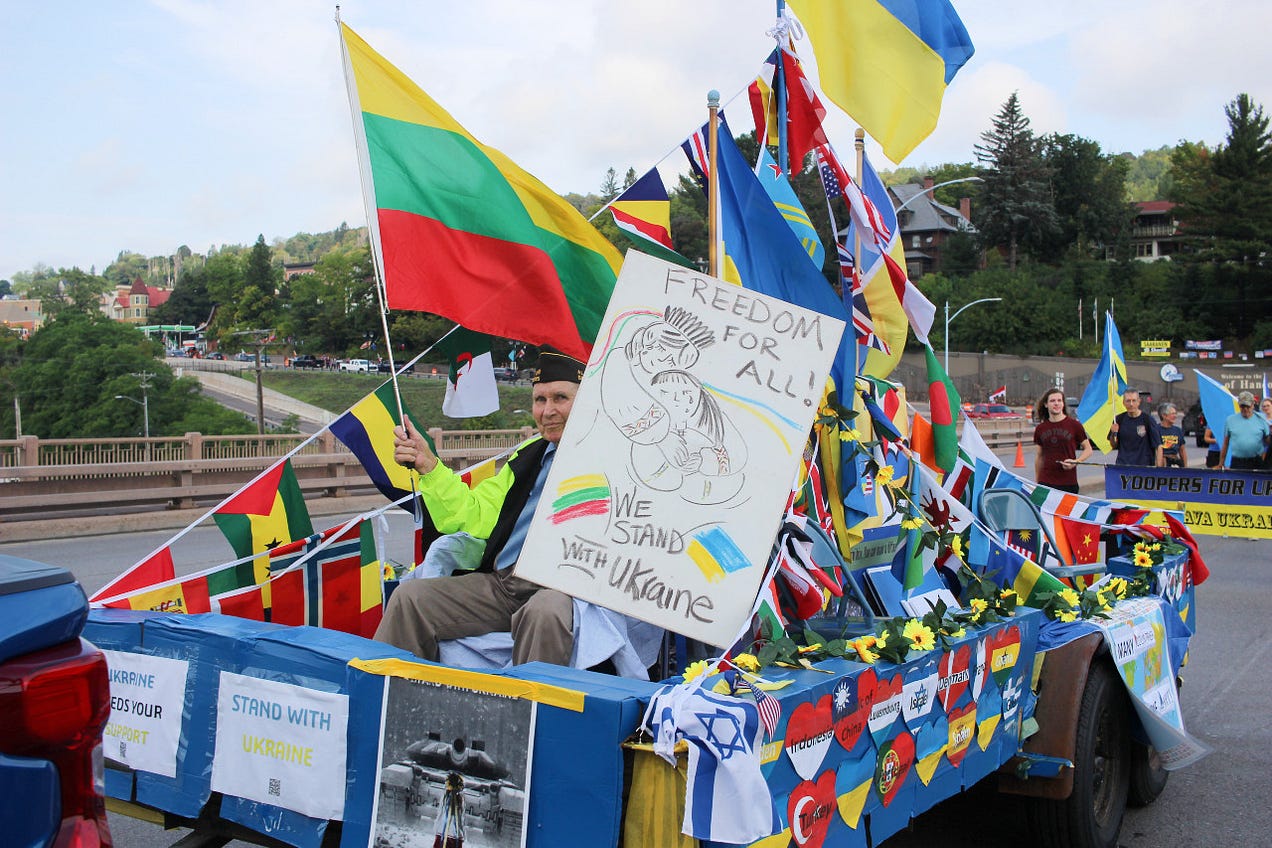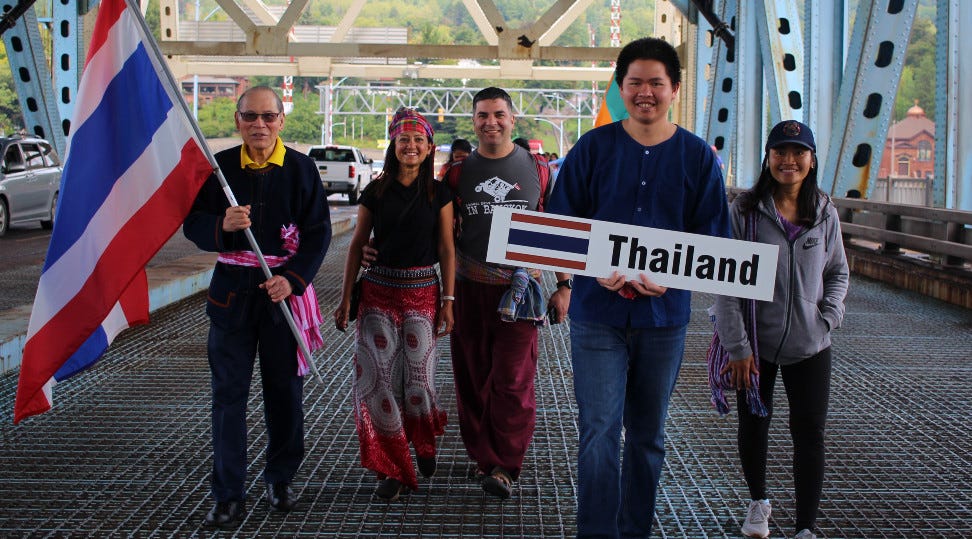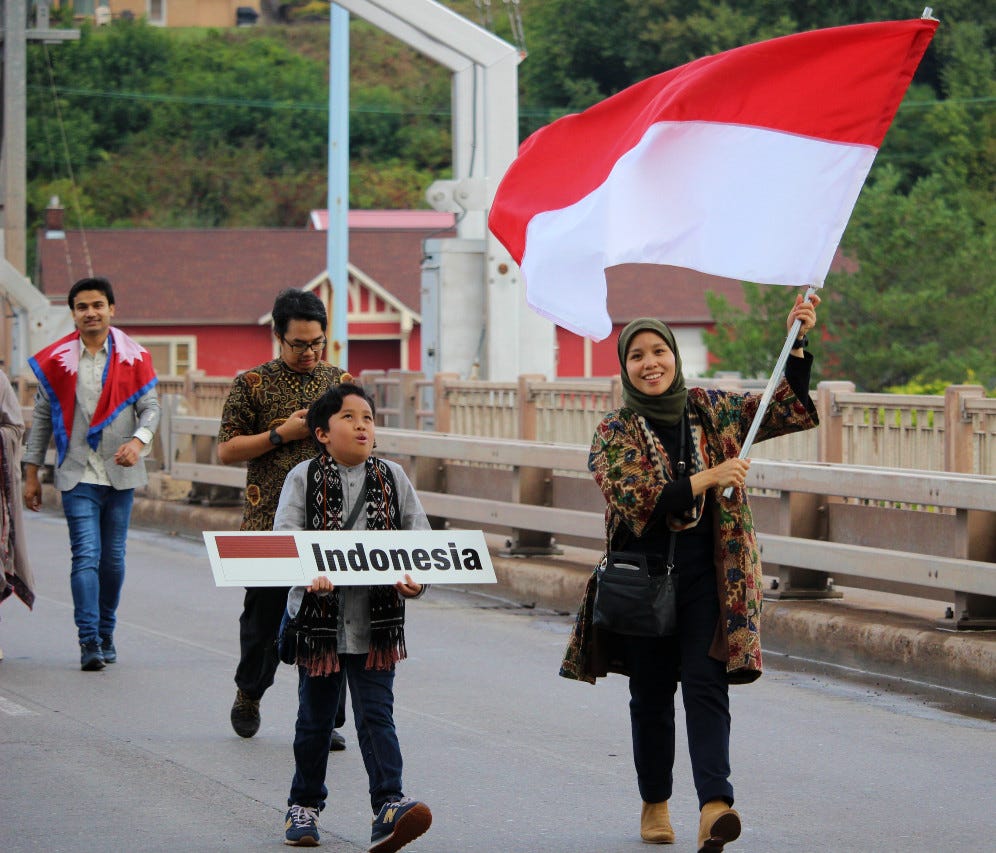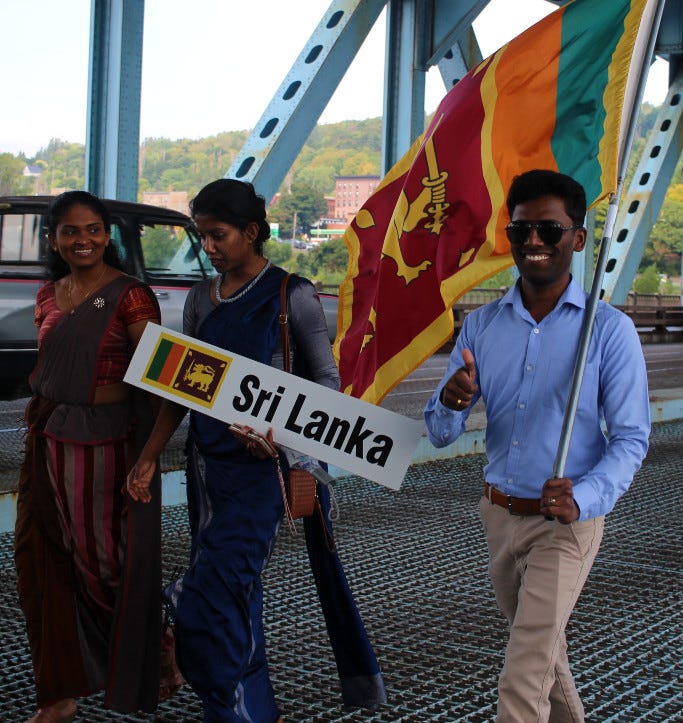 More pictures from the parade in here: http://www.copperbeacon.org/p/parade-of-nations-2022
======
It's berry picking time 2022!
Janaka and Wathsala, our Sri Lankan students, become first-time skiers in January, 2022!
From Russia With Love
Olga (center standing), a long time student, celebrated with us one more time before moving from the Copper Country. We will miss you Olga!
The Parade of Nations on September 19, 2021.
It was fun. Dejlah carried the Iraqi flag and a sign that said Iraq on it and wore a dress that she made that she would wear in Iraq. Anna wore a dress from Ukraine. Pichai carried the flag from Thailand. Jan, Linda, and Anne Marie and dog marched with us. We carried posters of our logo. They announced that we came in first in the scavenger hunt, thanks to Dejlah and Denise, though the announcement came before we reached the park where it was being announced. Those of us who participated in the scavenger hunt received small pieces of copper. Denise pointed out that Joshua Vissers of the blog Late Edition wrote about the parade and included pictures of some of us. Hope to do it next year, but we need to get a banner!
Our program again participated with Canterbury House to pick up trash along Highway 41 by Dollar Bay. Frann and also Janaka from Sri Lanka and our dear Dejlah, with extra volunteer help from Patti and Ralph Lund. Rick and one of his board members were there, too. Wet but still colorful.
The Summer of 2021 was unsurpassed in berry picking!
After a brief stop at Grego's farm, Dilka led Beth, Olga, Dejlah, Patti, Ralph, Denise, Frann, and Kass on a hike along the Freda beach on Sunday, July 25.
Dilka, Junying, and Frann on a summer outing to the Redridge Dam ruins
The Tuesday class takes a break
On June 4th, the Tuesday class celebrated the opening up of summer with a visit to Anna's place. On the left are Shasha from China, tutors Beth and Frann, Dejlah from Iraq, and Anna from Ukraine. Ingrid from Peru is included on the right side.
In Saturday, April 10, Marianna Ewart was surprised with flowers and gifts at her retirement. She taught her popular ESL classes for nearly 20 years with the Bacon program. Kicking off the retirement party, from top left, Linda Dresch, Beth Flynn, Bina, Junying, and Gary and Marianna Ewart. Dejlah Mezeel and Frann Grossberg are in the bottom row. Marianna and Gary entertained with a duet. Missing in the pictures is photographer Olga Levin.
Several members brought food and good cheer to Pichai"s home to help his recovery along. His daughter, Teerada, welcomed them! In the foreground are Dejlah, Olga, and Irina. In the center are Frann and Junying.
Frann Grossman joined Dilka from Sri Lanka and Junying from China on a hike on the icy Lake Superior shores along beautiful Hunter's Point trail in Copper Harbor, Nov. 17. 🥶
The 2020 Scavenger Hunt sponsored by the Parade of Nations at MTU
The hunt team of Denise Heikinen and Dejlah Mezeel tracked down clues hidden in the local area. The clues required close reading of details and collaboration with other members who offered advice and encouragement. At first, Denise mistakenly led Dejlah to the statue of the miner instead of the soldier in Veterans Park!
One clue led them to the big tree on MTU's campus where they had to ask a tall student for assistance in reaching inside the tree. Dejlah learned that baseball players do not have to run with plates from home in order to score at home plate. Dejlah said she has met a lot of nice people through our program and has enjoyed social activities unknown in her home country of Iraq. She is making great progrèss speaking English and her vocabulary is still growing. "I try to practice, anything social," she said.
Smiles All Around!
EBLP teachers and students celebrate the beautiful seasons of the Copper Country throughout the year.
Big circle: Olga from Russia helps Pichai from Thailand to hold up the Vietnamese flag at the Parade of Nations. Below the circle: Pichai in Thailand riding a horse and Junying relaxes by a stream after admiring a Jack-in-the-pulpit.
Dilka from Sri Lanka snowshoeing on Swedetown Trails. Shasha Zhang and family: Xinfeng Xie, Helena Xie, Isabella Xie and Daniel Xie ski the MTU trails.
19 December 2020: The holidays were celebrated with a play and cookie exchange.
Above: Pic 1: Anna of Ukraine, Irina of Georgia, Olga of Russia and Dilka of Sri Lanka. Pic 2: Dilka and Arsenyii, characters in a Sri Lankan-Russian Christmas play directed by Olga Levin. Pic 3: Students honor fellow classmate and mentor Dr. Pichai Sripaipan. Pic 4: Irina, Olga, Dilka, Bina, Miyoko, Qi, Xiaomin, Sherry. Seated are Anna, Pichai, and Arsenyii.
Irina Svanidze and Olga Levin from Russia, along with family member Arsenyii Kryanin, volunteered to help cook and serve the Thanksgiving Day Dinner at the Little Brothers, Friends of the Elderly annual event. EBLP students enjoy interacting with Americans at community events outside the classroom setting. The opportunity to exchange friendships across countries is invaluable.
Above: A collage of gatherings to socialize, learn, and enjoy food!

30 May 30 2019
Members celebrated Andrea Hauge Bacon's many years of selfless leadership.
Students volunteering at the 2019 Thatcher Markham Memorial Race.
From left, Serry, Irina, Olga and Frann consider options for a summer coffee club.